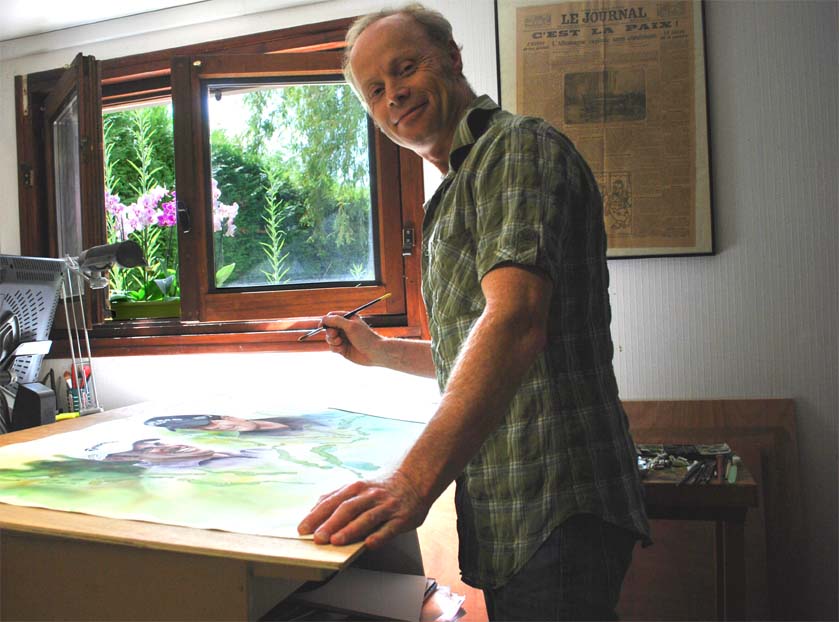 Yves Perron was born in Orléans, France. Immediately after finishing his medical laboratory studies, he decided to become a free lance illustrator. A Self made man, he did cartooning for the press before launching his career as a b for different advertising companies.
Always in search of new techniques, he developed his skills using aerograph, Pantone colour sheets, oil painting, pastel… starting from graphics to colour artworks before begining computer arts. Among all these techniques, watercolour rapidly became his favourite :
"It is both a demanding and a flexible medium that requires a permanent thinking of colour design and perfect drawing. You need to be ready when you paint a water colour."
His researches are now driven by his hobbies :
- Indian ink and acrylic portfolio design around The First World War
- Water colour mixed landscapes and portraits around the golf.
He has now settled his easel in Montlouis-sur-Loire, close to Tours, in the Loire valley. Right in the middle of vineyards and castles, in a special atmosphere and a wonderful light which undoubtedly makes it a fertile ground for artists.